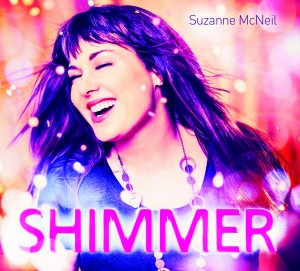 Suzanne McNeil's third CD Shimmer finds her a bit feistier and funkier. She's found her stride and she expresses it with a little edge this time around. Utilizing singer-songwriter sentiment, country, folk, and pop idioms, and her own astonishingly pure vocal, McNeil's album tugs at the listener's ear and heart in pleasingly equal amounts. It would be a crime if nobody important in the music industry notices this surefire work by this good girl from Boston.
McNeil opens her disc with "Mary Go Round," a song about the crazy things done by girls named Mary. McNeil uses a bit of a honky tonk approach with her saucy vocal gliding over a plucky, country rhythm section. Tasteful applications of electric guitar and Dobro flavor up the backdrop while McNeil's well paced narrative builds the song with power. The listener can feel how this singer-songwriter pushes forward with the strength of her voice, a voice that paces this song with an unfettered gusto.
Title track "Shimmer" is a plucky jaunt through McNeil's thoughtful lyrics, arriving at a compelling, confident, heartfelt chorus. This singer-songwriter's strident march through life makes one believe in her. Pleasant vocals traversing an irresistible chorus make this one a potential radio hit.
McNeil gets her edge on for "If Words Were Money." She's had it with the love of her life, and her feisty delivery fits perfectly with her rocking support band. Swaggering attitude is the order of the day, with McNeil's sharp, cutting vocal piercing its way forward with ballsy abandon. This tune's hooky chorus makes for another possible radio hit, and saxophone player Anthony C. Grant's melodic line burns a second draw throughout this number.
"God Jar" is about a mason jar the singer-songwriter inherited from her favorite aunt. All of her aunt's notes and memories become a metaphor and a message about the important things in life. Not only is this song the most tender on McNeil's CD, it succeeds on the sweet strength of her voice and all of the subtle touches from producer Joe Clapp's acoustic guitar and Dobro and Amy Basse's fiddle. This one will leave no dry eyes at coffeehouses and listening rooms.
"One Of Those Days" finds McNeil describing the vexations of a trying day. Catchy as hell and instantly relatable, its drum fills and electric guitars give McNeil a platform to strut around, like she's an annoyed country and western star venting her litany of gripes. Her vocal sustains are packed with attitude and sweet beauty and the whole song becomes a two stepping party favorite.
With flinty electric and acoustic guitars blazing a trail, McNeil asserts that she's a "Girl Worth Fighting For." She swaggers through this tune with a girlishly sweet attitude. This is another that could make it to radio, country as well as adult contemporary pop. Clapp's lead guitar work sets off a second string of fireworks to walk in measured step with all of McNeil's lyrical fight and feisty delivery.
"Sister's Hands" is another touching acoustic guitar driven tune that reaches the heart with its universal theme. Holding her sister's hand at serious, pivotal moments in life become a metaphor for the sacred relationship between female siblings. Diona Devincenzi's acoustic guitar helps drive forward this tender march through time as McNeil's even, smooth vocal takes us into a journey of the heart. Interestingly enough, it's also as catchy as many pop song.
McNeil paints a perfect picture of "Sunday Morning." With vivid, familiar details, her voice carries sweetly through a myriad of fine, acoustic country instruments. This is an ode to love as well as an ode to the beginning of a glorious day. Mandolin, acoustic guitar, baritone guitar, fiddle, and a whole mess of other fun outdoorsy feeling melodies spring through this easeful joyride, making it a fun two step, the kind that makes one picture the musicians having fun playing it. That fun sensation is infectious here.
McNeil sings "He Don't Care" with more of a country star attitude, making us picture her shimmy around on a giant stage like Shania Twain. Like today's female country stars, McNeil is unafraid to call men out on their guy qualities while also describing their masculine prowess. Here, she does the opposite, in a witty kind of way. She paints a striking picture while maneuvering her vocal through a myriad of well delivered drum fills and electric guitar boogie.
McNeil closes out her disc with an ode to every musician's worst nightmare. "Rejection Letter" is about how she posts her dismal record company refusals all over her walls while giving them all a sweet, girlish retort. Even as she tells them to "go to hell," McNeil is positively charming, asserting her desire to move forward with her dreams. She maintains this balance between sweetness and defiance because she is a true talent who doesn't deserve all of those rejection letters.
McNeil has taken her already proven sound several notches higher on Shimmer. She offers something special for many different listeners and everything track here shimmers with potential, radio potential, personal favorite potential, and a shimmering personality behind everything going on in this disc.